How do you calculate the water usage of a shower or a bath?
Note: Most standard 30"x 60" bath tubs will hold a total volume of
around 40 gallons. If you fill the tub half full to use, that is 20 gallons
of water. A typical new shower head will have a flow restrictor on it
to limit flow to 2.5 GPM.
To find the amount of water used in a shower, use the equation:
Volume = Flow Rate x Time
Gallons = Gallons per Minute x Minutes
Example: The volume of water used in a 10 minute shower that has a
flow rate of 3 GPM is:
Gallons = 3 x 10
Calculated out this gives a total estimated volume of 30 Gallons
of water used in a 10 minute shower.
$100 Promotion
Win $100 towards teaching supplies! We want to see your websites and blogs.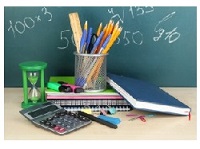 Enter Here
Calculator Popups
Scientific Calculator
Simple Calculator

Calculator Ideas
We use your calculator ideas to create new and useful online calculators.
Submit Calculator Idea