What is a lightyear?
A light year is a measurement of distance. This distance is measured by how far light can travel in a year.
Light travels at approximately 186,000 miles per second.
In one year (365.25 days) that is equivalent to 5,869,713,600,000 miles.
Example: How far does light travel in 3 months.
3 months is 1/4 year. So enter .25 in the calculator to determine the distance that light travels in 3 months.
Answer: 1,467,428,400,000 miles

$100 Promotion
Win $100 towards teaching supplies! We want to see your websites and blogs.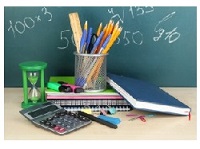 Enter Here
Calculator Popups
Scientific Calculator
Simple Calculator

Calculator Ideas
We use your calculator ideas to create new and useful online calculators.
Submit Calculator Idea